What it says on the tin: 'Since 1997, kids, teachers, librarians, and parents have enthusiastically turned to Funbrain for its free educational games, online books, and comics. Funbrain, created for kids ages preschool through grade 8, offers more than 100 fun, interactive games that develop skills in math, reading, and literacy. Plus, kids can read a variety of popular books and comics on the site, including Diary of a Wimpy Kid, Amelia Writes Again, and Brewster Rocket.'
For preschoolers, there's The Playground, which is packed full of simple fun games that help little ones get accustomed to using the mouse while learning and having fun.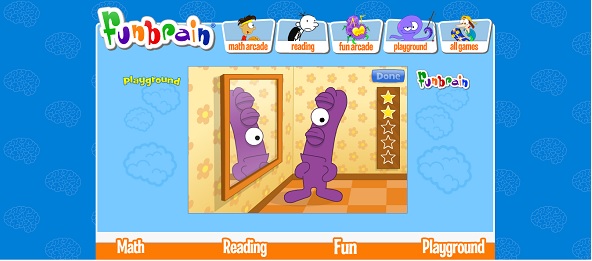 This particular alien game 'Simon Sees' involves clicking on the alien's eyes to match his reflection. It's simple and helps little ones master the mouse while laughing at the funny alien.
There are some great maths games which tailor the games to the player, you select your level and it suggests games for you to play. There are also some great books and language learning games too. The site even offers access to the popular 'Diary of a Wimpy Kid' books. It's sure to be a hit with children of all ages.