For Christmas this year we decided to buy our two year old son a tablet style device. He was constantly trying to hijack my smartphone (and still does!) and is a real whizz on a touch screen, probably more so than I am, so the InnoTab Baby 2 seemed like the perfect choice.
Aimed at children between the age of one and nine years of age, although specifically targetting the baby and toddler end of the market, the InnoTab Baby 2 is preloaded with several apps and allows a certain degree of personalisation. There's a built in camera and video recorder, video player, e-reader, games and art studio. So what do we think about it?
It certainly seems popular with our little one that's for sure! It comes with a tough removable gel cover which has certainly helped to protect it when it's been hurled across the room during a tantrum. There are several pre loaded apps and games and you can of course download more via a usb lead attached to your computer, or by buying cartridges preloaded with games. You even get two free downloads when you buy it, which you can choose from the dedicated VTech 'Learning Lodge' and download straight onto your InnoTab.
The little one really enjoys playing with what he refers to as his 'Photo', he takes pictures, makes videos (all of which are of his feet or whatever surface he's using it on, but he's gradually getting the hang of it) and loves colouring in the art studio. We bought a 'Jake and the Neverland Pirates' e-book, which he adores and numerous videos including 'Sponge Bob Square Pants' and 'Dora the Explorer' ones, which he loves. The downloads themselves vary in price, well known characters, such as Disney ones for example, tend to carry a heftier price tag than the more basic apps, but there is a large variety available to suit all age ranges, from little ones right up to school aged children.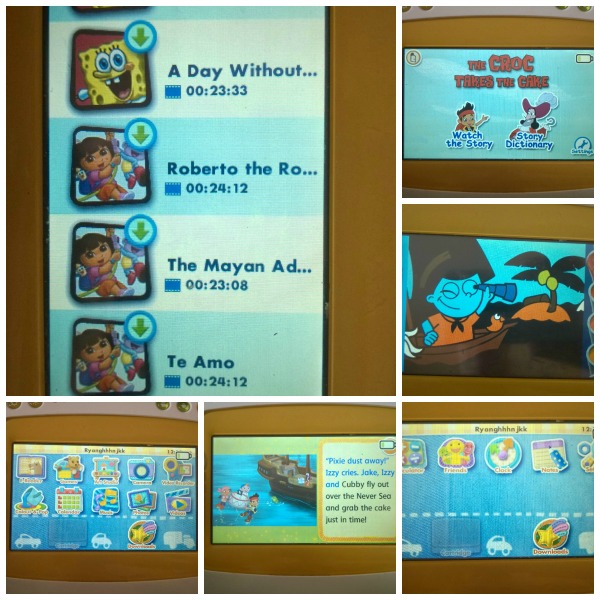 For safety reasons it is operated by batteries only, rather than having a power cable. Personally it would be useful to have an inbuilt rechargable battery, much like a laptop to enable overnight charging, while still allowing batteries to be used as a back up. You're guaranteed not to have any batteries around when you need them after all and having a charger would help prevent any toddler tantrums. It's also rather bulky so one year olds might find it a little much to pick up and hold on their own, but my two year old can certainly manoeuvre it without any help now he's used to the weight of it. The other suggestion I would make to VTech would be to include a screen protector. Although the unit itself is protected by the gel cover, the screen is still liable to being cracked if it gets hurled across the room by a stroppy toddler. It is inlaid slightly however and this seems to have protected it so far.
One thing I would find particularly helpful on the InnoTab Baby 2 is access to the Internet. Obviously VTech want you to buy games and videos from them, but I find that the range, although plentiful, isn't extensive enough. My son is a Postman Pat addict for example, so he still tries to hijack my phone to watch Postman Pat videos on Youtube. Obviously allowing normal access to the Internet isn't appropriate for a toddler or younger child, and particularly YouTube. Now, if there was a way for young children to access the Internet safely…[1]
The Innotab doesn't really offer the opportunity to grow with the child, only in a limited way through apps, so they could get bored of it within a couple of years. Of course at a price of £65 that isn't too bad at all when you think about it, but it would be great if it could be that little bit more adaptable.Now, if it was able to access the Internet in a way that worked well for younger children it would be better value…[2]
For a first tablet style product, it is a good option. You can read, draw, write, take photos, watch videos, play games and more. I'd give it a 3.5 out of 5, but with just a few simple adaptations it could be a 5.[3]
[1] You know, like TwoTen's service 😉
[2] For example, see [1]
[3] Simple adaptations like integrating a way of accessing the Internet that's suitable for young children. Like, you know…